I like the animations…
Joyce W.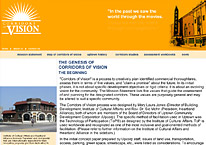 Sharing the history.
Sharing the thoughts and visions of the commercial future is important to the life of many communities including Chicago's Uptown neighborhood.
Uptown wanted to give the people a chance to voice their opinions and ideas for the future growth of the commercial corridors of this area. By using photographs, downloads, and a history of Uptown and it's many changes over the years, Your Plan B Co. created not only an online home for this information and resources, but also the entire branding identity.
The custom theme created reflects the changes on the horizon for this area rich in diversity. Corridors of Vision was designed for use in the Uptown community of Chicago, to apply itself to community planning. Its approach is to agree on values that are relevant to the area in question, to observe the current condition, and to thoughtfully and creatively plan to shape the future of the community.