Congratulations to the Your Plan B team. Put that logo on your awards page!
Gaylon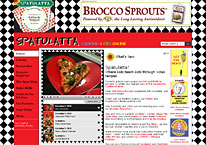 Spatulatta.com has been revamped to better showcase all the videos on the site. Along with their monthly updates, the Remote Reporter and Spat Blog are on display. Using a content management system (CMS), Joomla!, Spatulatta is now able to update their site with the power of a browser based content editor.
2009 American Library Association | Great Web Sites for Kids
2008 James Beard Nominee (Webcast)
2007 James Beard Nominee (Webcast)
2006 James Beard Winner (Webcast)
Deemed "the Oscars of the food world," by Time magazine, The James Beard Foundation Awards are the country's most coveted honor for chefs; food and beverage professionals; broadcast media, journalists, and authors working on food; and restaurant architects and designers.
2007 IPMA Excellence Award
The iParenting Media Awards Program provides a credible and objective method of determining the best products in the marketplace and then honors them with the most prestigious consumer award.