Living on the Wedge looks great.
Thanks!
Gaylon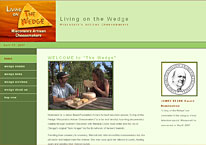 Trillium Productions came to Your Plan B Company needing assistance with a website dedicated to their television special, "Living on the Wedge: Wisconsin's Artisan Cheesemakers". Nominated for a James Beard Foundation Award for best television special, the hour-documentary takes a road-trip through southern Wisconsin's farmers markets with food writer, Mariana Coyne.
Using a template Trillium Productions already had in use, Your Plan B Company was there to help update and maintain the site quickly and efficiently.