YOU Guys have been great!!! We do appreciate all the help.
Ray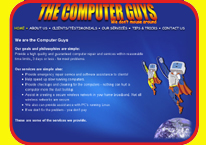 After relocating to Ireland, Ray and Eileen McClure discovered that servicing their computer could take upwards to a week before the shops in Killarney would have the time to look at it. Recognizing a need in the area, they decided to utilize their 25 years in the industry to start their own company.
Using their cartoon graphics to capture the fun in their work – we created this brochure website for The Computer Guys. This site allows them to update each page of the site, as needed, on their own.