We asked Your Plan B to develop our first Web site. We wanted a firm that was willing to help us find ways that our small company could look like a big player online. Jamey and David brought a refreshing blend of professionalism and creativity to the project. They listened to our ideas and asked good questions about our client base. They had a strong handle on what we needed after just one meeting. I'm happy to say the Web site has been a success. Jamey and David built a way for new clients to find us and opened business opportunities that we hadn't anticipated. The site was designed, developed and launched in only a few months, and stuck to the budget the whole way. I would recommend Your Plan B to anyone without hesitation.
David Crenshaw, Owner
Atlanta, GA
www.fenced-in.com
April 2002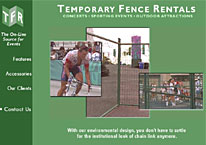 Small Business Solutions
Atlanta-based Temporary Fence Rentals, a key player in hosting the 1996 Olympic Games, came to YPBCo in need of business cards, a postcard and a brochure. On a limited budget, could they also take advantage of the Internet? Building a low-cost site in a few months' time reduced their overhead, and gave them a pipeline to new customers. Online, they're finding new suppliers and making industry contacts. It's simple. It's smart.