We needed a site mucho fast for a party we were throwing and they were able to get it up with in a few days complete with swanky Flash! animations that included original artwork.
The updating, response time, and ability to preview your site changes in real time off-line with little or no hassle is a total help.
What I like is that they just get it.. They make the whole process painless.
I had toyed with doing it myself, but then realized that making a website has gotten pretty complicated.. It's not just HTML anymore and in this day and age you cannot look "Start of the Art" on the information highway.
They have the tools, vision and playfulness that make what I try to do in real life look cool on your computer monitor.
Thanks!
Tobin Neis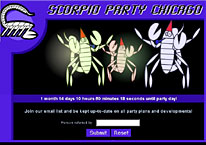 If your birthday falls between October 23 and November 21, one of the biggest parties in Chicago is devoted to you, dear Scorpio. For the annual Scorpio-themed blowout, Your Plan B Co. built a web site for people to get event details, see year before photos, and watch an animated Scorpio shake its tail. After all, it is a party.