Hey there, We got a little mention in salon
yippee! -Carrie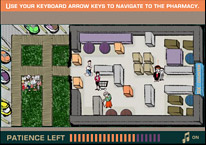 Your Plan B Company was requested to develop a viral marketing flash game to be forwarded through email. The goal of this game was to educate the visitors about the upcoming elections and candidates.
We worked and reworked the design, even adding in a cartoonist for that special touch. In true marketing spirit, the game allowed users to pass it on to friends in an effort to get the word out. All in all, the team built an online political satire fit for any legislature.