Fast, professional, creative, outstanding! Just a few adjectives to describe JameyB (pre-YPBCo). In March of 1996 Luminair Multimedia designed and implemented a large corporate site for Moore Corporation Limited. JameyB was a tremendous asset in the process, helping Luminair in HTML scripting and web technology consulting. The Moore site was one of the first to use Frames, and her tricky implementation of this is evident in the History of Moore Timeline. Luminair was thrilled with the quality and timeliness of her work on this project and is looking forward to diving into our next one with her!
Kent Johnson
V.P. Operations
Luminair Multimedia
1996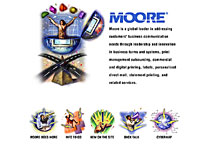 JameyB (pre-YPBCo) worked with Luminair Multimedia to help launch Moore Data Systems onto the web in 1995. Brand identity was first on their minds. With strong attention to art direction, working together we provided them with a site that served as a touch point for new and existing customers.
This project was completed while working with the Luminair Multimedia team.