Dave and Jamey put together our wedding invitations. The team was wonderful! They helped us express our vision and they used that to put together invitations that were exactly what we wanted. They also saved us by halting the printer at the last minute to modify the directions so the guests would be able to find the wedding site! 
Micheline Magnotta and Paul Zarnoth
Urbana, IL
1998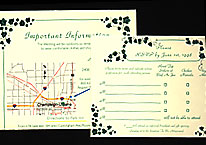 Your Plan B Company custom designs wedding invitations from the offbeat to the timelessly elegant. Often that means listening to a bride describe her vision for paper and translating it into reality. For Micheline Magnotta we came up with an ivy trim on classic crème stock, which became her signature theme for the invitations, RSVPs, and thank you cards. When it was discovered at the eleventh hour that guests didn't know how to get from the wedding hall to the reception, Your Plan B Company snapped into action and printed a map that saved the day!