Your Plan B recreated our website to be more functional for us and our clients. Their creativeness and thoroughness was a great asset in developing our company identity online. They were able to address our needs quickly and effectively, and they were a lot of fun!
Robert G. Racky, Managing Director
Lakeview Baseball Club
Chicago, IL
April 2002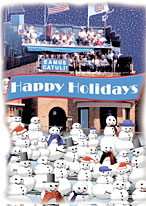 Baseball fans in Chicago know that the best seat in the house isn't behind the dugout, it's across the street! The Lakeview Baseball Club, perched above Wrigley Field's famous ivy-covered wall, is the city's oldest rooftop club for baseball events.
The web site borrows from the look of the club's Sheridan Road brownstone to provide a forum for learning about member benefits and the latest events.