I like the Roadmap to Learning splash page. It's one of those things that immediately starts sparking ideas.
Olaf W.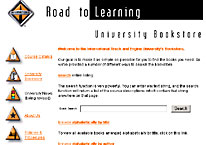 Updates in Real Time
International Truck and Engine University offers over 500 courses in its online catalog. With our technology partners, Trahan Associates, we eliminated their "manual maintenance" headache. A database-driven approach, with a customized management tool, allows staff to keep course listings up-to-the-minute without any technical knowledge.
Regulating Business Procedures
An Intranet can serve as a knowledge management center, pulling together key ideas from company-wide e-mails, memos, and phone calls into one place. By building an Intranet for the Total Performance Management Form at International Truck and Engine, YPBCo allows them to effectively rate the progress of their employees, eliminating inconsistency.