I retained Jamey and David to build my firm's web site from scratch. I knew nothing about the process, or even what to really expect from the finished product. I found them to be unbelievably patient, cooperative, dedicated–and most of all–user friendly. They delved into my project with enthusiasm and commitment to schedule and cost controls. I'm thrilled with what they've done for me and have received many compliments on my site from people who know a lot more about the web than I do. I'd recommend Your Plan B to anyone and without hesitation.
Paul Nemoy, Attorney at Law
Howard & Nemoy
Chicago, IL
March 2002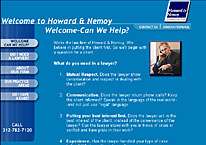 Personal injury lawyers Howard and Nemoy wanted a client services tool they could grow slowly over time. Your Plan B responded with a Web site that gives injury victims everything they need before seeking legal help.
Using a straightforward design and bilingual content, the site combines goodwill tips on choosing a lawyer with a time-saving means for victims to determine whether or not they should pursue their case.
howardandnemoy.com