Your Plan B Co. did an outstanding job on the Hoosier Grove Museum website. From start to finish, Jamey and David guided us through the entire development process. With our raw elements and their extraordinary skills they created the site we envisioned.
First and foremost, David and Jamey are excellent communicators. They listened to our concepts and then turned around and implemented what they heard. They were always available to answer our questions and offer suggestions. All this and they're lots of fun to work with – toys, candy and good food are always on the agenda with YPB!
Always professional and with a positive approach, Jamey and David made working on this project a rewarding experience. We felt like we became a team working towards a common goal. Now we have a site that we are proud to share with the public and others in our industry. Thanks to YPB Co our local history can now be accessed with a click of a mouse.
Nancy Gher and Jill Ingram
Hoosier Grove Museum, Chicago, IL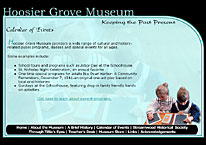 The Hoosier Grove Museum began as a one-room schoolhouse in 1904. Almost a hundred years later, we helped the museum open its doors to a worldwide audience. The online museum offers more than a virtual destination; we took one of the museum's most cherished artifacts–a crumbling scrapbook kept by a young schoolgirl–and digitized its pages, allowing it to be preserved forever on the web.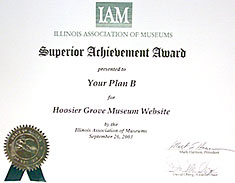 2003 IAM Superior Achievement Award
The purpose of the Illinois Association of Museums (IAM) Awards Programs is to honor the work of member organizations in the areas of conservation, preservation, exhibits, educational programs, periodicals, scholarly and popular publications, promotional and informational publications, audio-visual projects, and special programs.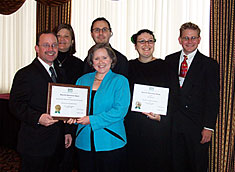 hoosiergrovemuseum.com