Thanks for the information. We look to you for "Web Techie" advice and consultation.
John T.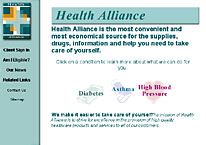 Your Plan B Company helps healthcare providers expand their services online. In conjunction with Dynacom, Inc., we adapted brochures on asthma, diabetes, and heart disease into more widely accessible Web-based learning tools. Health Alliance invited us back to integrate their new web site with a variety of print materials.
This project was completed while working with the dynacom team.