We hope you are as excited about the new year as we are – here's to 2017!
Your Plan B celebrates a major milestone this year – 20 years in business!
We have all sorts of fun planned for the year! In addition to our Web Tip Wednesday and Friday Distractions, we will also be sharing "Confessions of a Web Designer" (stories from 20 years online), #havelaptopwilltravel articles and launch announcements from new client projects all year long!
Follow us on Facebook, Twitter and G+.
Instagram and Pinterest are getting some love as well.
Back in 199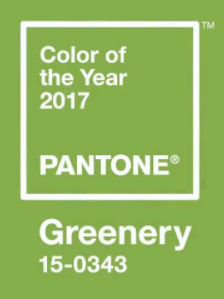 7 we chose an exciting, bright green as our company colour. Over the years it has represented green aliens, lime green hex code and green bubbles – to name a few.  As if to help us celebrate our 20th anniversary, colour standard creator Pantone Inc has just announced their colour of the year – "Greenery"  We knew this shade of green was cool back in 1997 – Nice to be in good company 🙂
An IDEA! Wouldn't it be fun to design in green all year long using these palette options?
"Ultimately, Greenery calls to mind the 're-' words: refresh, revive, restore, renew, replenish, regenerate, rejuvenate, reinvigorate, re-oxygenate."
Can we add "remodel" to the list?
Give us a call if it is time to brainstorm a website remodel for you!