Love the animated stretching portraits! And spooky audio!
Redrum (member of Doombuggies.com)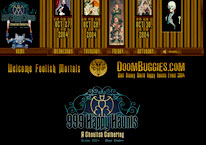 Walt Disney World's annual Happy Haunts Event celebrating the Haunted Mansion draws fans from all over the world.
One of the largest of the fan-base is located at Doombuggies.com. When this 2000+ member group asked us to design a web site to compliment the existing Disney event AND highlight the special separate scheduled activities for its members – we jumped on the chance!
Being members ourselves our design is based on the Haunted Mansion, complete with stretching portraits. This site offers one spot for members to check on times, dates and availability – making sure the events are a success!