In our business we work with hundreds of suppliers and vendors over the years, and Your Plan B has been one of the most professional companies we have ever worked with as well as maintaining a high level of creativity at the same time.
They responded to all of our requests with lightning speed, and were always more than willing to make changes or explain anything when we had a question. They were the epitome of "Service With a Smile" when they were creating our website!
And finally, our website turned out to be every thing we had hoped it would be. It is very creative, easy to use and presents our products and our company in a professional manner. (And a few weeks after our site went live, we acquired a new large customer who found our products on our web site and called to place several large orders!)
Barbara and John Stephenson, owners
daddyRatracing Promotions
Chicago, IL
July 2002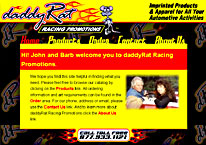 Daddy Rat Racing Promotions and Your Plan B share a love for design. For Daddy Rat, suppliers of custom imprinted products for automotive and hot rod enthusiasts, that love translates to what is under the hood. Your Plan B helped them think about what's on the screen. We built a one-of-a-kind design to give their online catalog some added horsepower, souped it up with our Web marketing and positioning services, and from there it was off to the races. Congratulations to Daddy Rat for securing major sales not long after launching!
daddyratracing.com