Just got the letter today that the My Chicago project won a Superior Achievement Award from the Illinois Association of Museums. This project was so fun to do and rewarding to collaborate with everyone to make it such a success. Congratulations and thanks for all your hard work!
Heidi Moisan
We're so happy with My Chicago!
Rosemary Adams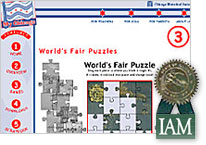 The Chicago Historical Society developed a new resource designed for children ages 6-12 and made possible by a generous grant from the National Endowment for the Humanities. Using the Chicago flag, children are able to explore the city's past and learn about Chicago's diverse history. A PDF document was provided as the jumping off point for the website.
A custom design was developed to coincide with the provided PDF document. Various other PDFs were built as supplementary materials to use in the classroom or at home. Interactive flash games combined with historical facts were implemented to inspire and educate the user. Feedback surveys were created to provide a sounding board for the project.
2004 IAM Superior Achievement Award
The purpose of the Illinois Association of Museums (IAM) Awards Programs is to honor the work of member organizations in the areas of conservation, preservation, exhibits, educational programs, periodicals, scholarly and popular publications, promotional and informational publications, audio-visual projects, and special programs.