The results are in
and it's a rave! Everyone seems very happy with the site.
Gwen Ihnat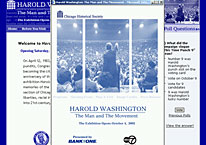 In 2003, the Chicago Historical Society opened the exhibit, Harold Washington: The Man and The Movement to commemorate the twentieth anniversary of Harold Washington's Chicago mayoral election.
The website we created provided images, video, and interactive content that captured the excitement and memories of the time. The website functioned as an online exhibit for those unable to visit the existing exhibit as well as an introduction to the brick and mortar exhibit.