It absolutely rocks!
We got the official thumbs up. Please tell Cat nice job.
Matt Crenshaw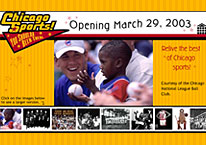 Chicago is no stranger when it comes to sports. Sports allow people to connect with one another, as well as divide. The Chicago Historical Society developed the Chicago Sports exhibit and asked Your Plan B Company to provide the accompanying online exhibit.
An interactive Flash website was created featuring images from the Chicago Historical Society's collection. The scrolling images showed a variety of sports in Chicago, from fans; young and old, Hull-House basketball players, high school teams, and even Michael Jordan's jersey and shorts.