Your Plan B has helped my business from the beginning by designing the business cards, and now the web site. Dave, Jamey and all the others that make up Your Plan B are a talented and professional group of people. I would not hesitate to recommend their services to anyone wanting a first class experience.
Mary Ferazza, President
The Chicago Buzz
Chicago, IL
April 2002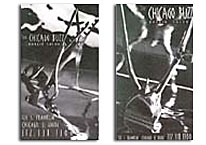 Chicago Buzz Salon needed an eye-catching way to remind customers of appointments as well as their new address.
By printing in black and white, one side only, the cost was kept down and the cards can be used for a variety of messages by the salon owner herself.
If every hair cut is a work of art, shouldn't every hair salon be an art gallery? That was photographer Mary Ferraza's idea. Her salon, tucked away in Chicago's busy downtown loop, showcases selected artwork from local talents. Your Plan B developed a Web site that details the shop's grooming services, with product links and up-to-date listings on the artwork you can peruse during your next snip-snip.