Perfect! Thanks again!
Dana Tuerk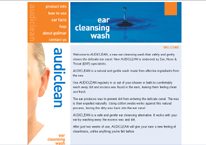 Your Plan B Company was requested to submit a proposal of a new website for a Chandler Group client, AUDICLEAN. The product, an innovative ear cleansing wash that safely cleans the delicate ear canal with naturally derived isotonic sea-based ingredients providing a product gentle enough for regular use.
The main goal of the site was to create a strong web presence to build the company's brand while educating visitors about the company's services. In addition, one main requirement was to offer and easy way to locate store locations where the product would be sold. Your Plan B proposed to design the new website to match with future branding, offered maintenance services and found search engine, SEO solutions.