Thanks for the speedy delivery! Things look great. I love the logo. Great work! Eric Scot Tenfelde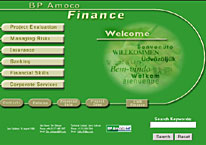 Internal communication makes or breaks a company. On a three year project with BPAmoco, YPBCo and Dynacom Inc. consulted with a variety of departments. The result: An expandable, streamlined intranet that provides key financial information and gives company directors a way to publish in-house information on the fly.
This project was completed while working with the dynacom team.