I am absolutely overwhelmed. You are a God send! 
Barb Kelly
AFS Hosting Coordinator 
for the Greater Chicago Area Team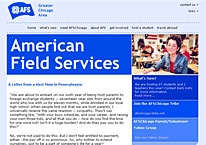 AFSChicago is a local volunteer group that provides travel abroad services to students. They needed a web site that was fun and could deliver the right information to teachers, parents, students, and host families. As a world traveler and alum, JameyB was thrilled to reunite with AFS. We helped them launch their first web site and set up an online store. AFS Chicago now handles online fundraising and sells t-shirts and hats through Café Press.