After the two of us got married in Hawaii we wanted to have a party/picnic for our friends and families. Jamey and Dave created something special and unique for us. It was a postcard used as an invitation to the picnic. The comments we received were outstanding! They were professional and sensitive to our needs. It is a pleasure to work with them on a personal note.
Barbara & Curt Aarud
Clinton, WI
January 1998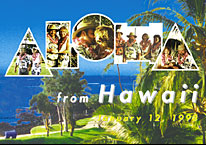 After returning home from their Hawaiian honeymoon, these newlyweds decided to throw a party.
The postcard doubled as the wedding announcement and party invitation. All the photos used on the card are ones they took on their trip, making this a keepsake for everyone involved!